Irina Rozenfeld DNP, APRN, ANP-BC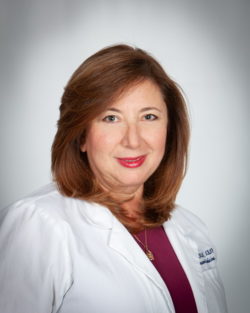 Rezilir is thrilled to announce that Irina Rozenfeld will be joining the Rezilir Team in the upcoming weeks. Irina Rozenfeld is a Doctor of Nursing Practice and a board-certified Nurse Practitioner. She practiced medicine as a physician assistant for two decades in Russia before relocating to the US in 2002 and starting a new nursing career after obtaining a Bachelor in Nursing degree from Nova Southeastern University in 2008. Irina worked as a Clinical Research Nurse and became certified as a Clinical Research Professional. She obtained her Master of Science in Nursing degree and post-master certificate in Nursing Education from Florida International University and became a board-certified Nurse Practitioner in 2012. Irina obtained her second Master of Health Science degree from the George Washington University Medical School with a specialization in Integrative Medicine. In 2020, Irina completed a Doctor of Nursing Practice degree from the University of North Florida. Her doctoral project was on the improvement of care for patients with Myalgic Encephalomyelitis/Chronic Fatigue Syndrome (ME/CFS), particularly the role of nutrition and patient education on the control of symptoms.
From 2012 to 2020, Dr. Irina Rozenfeld practiced at the Institute for Neuro-Immune Medicine (INIM) as an assistant professor at the Kiran C Patel College of Osteopathic Medicine of Nova Southeastern University. Her responsibilities at the INIM included clinical care of patients and the conduct of clinical research. She had an extraordinary opportunity to learn from Dr. Nancy Klimas, one of the world-known experts in Myalgic Encephalomyelitis/Chronic Fatigue Syndrome and Gulf War Illness, as well as other physicians on staff at INIM including Dr. Irma Rey, Dr. Alison Bested, and Dr. Maria Vera Nunez. Irina was provided with indispensable opportunities to study from the thought-leaders in the area of ME/CFS and Environmental Medicine. Irina was fortunate to have a rotation and training from Dr. William Rea, one of the founders of Environmental Medicine in the USA. While working with chronically ill patients, Irina began recognizing the role of Integrative and Functional Medicine in the treatment of chronic illness. Working with patients who present with numerous unexplained symptoms stimulated her into continuous studying and attending international conferences and various workshops.
At one of her educational endeavors, Irina met Dr. Craig Tanio and was invited to visit Rezilir Health. After the introduction to the Rezilir Health collaborative treatment approach to the complex chronic illness, Irina realized how valuable such a well-thought and organized program can be in cases of Myalgic Encephalomyelitis/Chronic Fatigue Syndrome. Irina focuses on patients suffering from ME/CFS, dysautonomia, POTS, autoimmune diseases, mast cell activation syndrome, and Ehlers-Danlos disease. She is actively continuing her education through a Restorative Medicine Herbal Fellowship.
Dr. Rozenfeld continues to hold faculty positions at Nova at the INIM as well as at the Ron and Kathy Assaf College of Nursing at Nova Southeastern University. While not at work, Irina, an acclaimed chef, loves to treat her husband, daughter, and friends with distinct dishes from around the World. She enjoys ice-skating, tennis, reading, and traveling. She loves to turn attendance of international conferences into a quest for discovery of the new Integrative Medicine approaches to the treatment of ME/CFS.