Budget Friendly Holiday Meals: How to Navigate Rising Food Costs and Provide Great Food for Less

We have all experienced a bit of sticker shock lately at the grocery store. I have found myself grabbing an item I have purchased in the past only to put it down after noticing a significant price increase that I feel is outrageous. The cost of meats, dairy and eggs have all increased enough to affect food choices and the amount of groceries many Americans can buy. The U.S. Bureau of Labor and Statistics reports a 13% increase in food costs over the past year. The increase in prices may be even greater at certain grocery stores and restaurants. The cost of dairy products has increased 16%, fruits and vegetables have increased by 10.5%. Meat, eggs, fish and poultry have increased by 9%. These increases will affect the cost of our holiday meals and lower-income families may find it difficult to afford that Thanksgiving turkey or at all.
Tips to help you save on the cost of holiday meals
Shop sales
If you find that something is on sale, consider buying extra to save for later. Butter, bread and milk can be frozen and used at a later date. Frozen bread toasts beautifully, butter and milk can also be frozen and thawed to use later. Buy meats on sale and freeze if you have the freezer space.
2. Consider buying turkey parts instead of a whole turkey for smaller groups
Buying a turkey breast and or legs and wings is less costly than buying the whole bird. If you are feeding 10 people or less, it may be less costly to rely on these alternatives.
3. Shop for produce that is in season
Scientists theorize that eating seasonal produce is healthier because it is how humans evolved over thousands of years. Eating fruit that has been shipped to the U.S. from other countries in the winter also increases your carbon footprint from the transporting fruit across the world. Incorporate seasonal vegetables such as winter squash or pumpkin. This is better for the environment, our health, and our wallet.
4. Use a shopping list to keep focused on what you need
Not using a shopping list allows for impromptu purchases that can increase spending.
I am guilty of this myself and often come home with items I don't necessarily need or I forget something I do need. Sticking to a list will streamline your purchases and keep you on budget.
5. Shop in the frozen aisle
Getting frozen produce is often cheaper than fresh produce and will last longer in your freezer so you can stock up for future use. Organic frozen berries are often less expensive than fresh berries and you will not have to worry about eating them in a timely manner to prevent them from getting moldy.
Make side dishes ahead of time to save time and money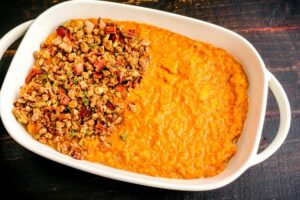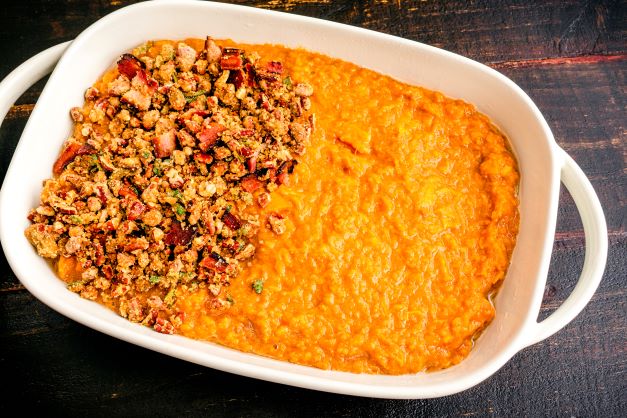 There are many traditional holiday side dishes that can be prepared in advance allowing you to save money by cooking from scratch. Cooking at home allows us to use better quality ingredients that store-bought items or kits. Buying premade food is always much more expensive than making the dish at home and as you have probably noticed, restaurant prices have soared amid rising food costs. You also can use healthy oils, less sodium and can modify recipes to be gluten-free or dairy free if needed. Green bean casserole or sweet potato casserole are examples of side dishes that can be put together and chilled requiring you to merely pop them into the oven to cook the morning of your holiday meal.
Make it a potluck
Have holiday guests all bring a side dish, a beverage or dessert to lessen the financial and cooking burden on the host. People often enjoy contributing to the meal and as they say " team work makes the dream work".
Know your prices and take advantage of store promotions and coupons
I recently had conversations with friends about having to go to multiple grocery stores in town to stay within our budget and get the best prices. Some grocery stores may have a preferred item but there are pricing differences among different companies. Some stores have apps that give you information on promotions, coupons and some offer a free turkey if you buy certain items they are promoting.
Try to estimate the right amount of food needed to avoid food waste.
If you are having a smaller number of guests over the holidays, adjust the amount of food you will provide to avoid wasting food and money. If there are leftovers, provide guests with take home containers or freeze the leftovers for another meal. Use the turkey carcass to make bone broth then freeze to use as a base for soups or stews.
Make simple meals that use some of the same ingredients
Making less complex recipes without many ingredients can also save money and time. Herbs and spices can be expensive and if you are using something you don't often cook with for just one recipe these can often go bad or sit in your spice cabinet unused for years. Choosing a couple of recipes that use similar ingredients can also save money. Sometimes the simplest dishes are the healthiest and most delicious.
As we gather together with our loved ones this year, let us be grateful for being able to do so after the uncertainty we have all experienced over the past 2 years. If working with a shoestring budget, consider making alternative holiday dishes such as a pasta dish, a bean or legume dish or perhaps make a ground turkey meatloaf as a substitute for the usual more expensive dishes that are used during the holidays. The important thing is to be mindful of all of our blessings and take our minds off our hardships for much-needed mental and spiritual break. This is also an important practice that impacts your physical health in positive ways.
Herbed Wild Rice and Quinoa Stuffing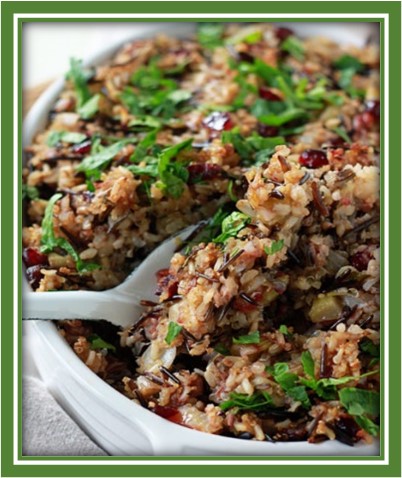 Specked with fresh herbs, apples, cranberries, and pecans, everyone will love this flavor-filled stuffing – and nobody will guess its little secret: it's vegetarian, vegan, and gluten-free! Plus, the addition of protein-rich quinoa makes this a high-protein dish perfect for those that prefer to skip the turkey.
Ingredients:
1 large yellow onion
2 celery stalks chopped (½ cup)
2 medium granny smith apples peeled and diced
2 medium cloves of garlic peeled and minced
2 Tablespoons fresh thyme leaves minced
1 tsp kosher salt and more to taste
½ cup dry white wine such as Sauvignon Blanc or Chardonnay
4 cups low sodium vegetable broth
2 cups rice mixture 50% wild rice and 50% brown rice
1 cup uncooked gluten free quinoa, rinsed well
1 ½ cups dried cranberries
1 cup raw pecans chopped
½ cup chopped Italian parsley plus ¼ cup more for topping after baking
¼ cup minced fresh sage leaves
Instructions:
Place a large pot over medium heat. Add the oil. When hot, add the onions and celery and cook, stirring occasionally, until soft, about 5 minutes. Add the apples, garlic, thyme, and salt. Cook, stirring frequently, for one more minute. Stir in wine, then add broth. Bring to a boil. Stir in the wild rice blend and reduce the heat to medium-low. Simmer, covered, until the rice is tender, about 35 minutes. Stir in the quinoa and cover again. Cook until the quinoa is tender, about 15 more minutes. Stir in the cranberries, pecans, 1/2 cup parsley, and sage. Taste and add additional salt if desired. Remove from heat.
Preheat oven to 350 degrees Fahrenheit. Rub a large (9-inch x 13-inch is best) casserole dish with a little olive oil. Lightly scoop the rice mixture into the casserole dish, lightly mounding it instead of mashing it down.
Bake until golden brown, 25-30 minutes. Drizzle with a little more olive oil and sprinkle with remaining chopped parsley. Serve.