April 3, 2020
Update on Masks and Testing
Masks
The CDC finally announced today that everyone should wear a mask when outside. They recommended that people wear cloth or fabric face coverings which can be made at home when entering public spaces.

This is a good thing and a practical strategy.
News reports emphasized that this is to prevent those people who have the virus and might not know it from spreading the infection to others.
However, in our opinion the most important effect is the psychological effect of wearing a mask – it keeps the user and everyone else aware that we have to do our part to prevent the spread of disease. Experience in multiple countries is showing that when the population all wear masks the disease is spread slower. Our observation in South Florida is that less than 50% of the population were wearing masks. The wearing of masks will enforce other strategies further.
The prior recommendations to not wear masks, we believe was primarily based on a concern of affecting the supply of hospital grade masks for health care workers. This is a practical solution. Healthcare workers need the protection first.
Just keep in mind that a homemade mask does not provide full protection. But something is most assuredly better than nothing.
Testing
We are awaiting the availability of widespread IgG and IgM testing of the virus.
There have been a couple of stops and starts on FDA approval of testing. On Tuesday, it spread on social media that Bodysphere had received FDA approval for its test which turned out not to be the case. On Thursday, there was a valid announcement by Cellex,  a company in the Research Triangle North Carolina on the FDA approval of their test for emergency use.
What you should know right now is that the antibody tests are different than the current PCR tests which tell us if someone is actively infected. What the IgG and IgM tests tell us the degree of a patient's antibody response. IgM antibody indicates that it is a current infection; IgG infection importantly indicates the presence of immunity in the person.
The spread of antibody tests will be a gamechanger. When we can tell that patients are immune and when health care workers are immune, it will provide a significant step up in our ability to manage the infection in a more targeted way.
March 30, 2020
Testing, Masks and Current Outbreaks
Here is the newest update of highly relevant information on COVID-19 pandemic and perspectives on how we can all keep safe with COVID-19.
Please visit our website www.rezilirhealth.com daily for up to date information from Dr. Tanio.
Testing:
The cheaper and more widespread testing can come the better. Multiple announcements happened over the last week on the availability of point of care testing within 15 minutes which promises to be a gamechanger. We need to distinguish between PCR based testing which can tell us who immediately is infectious, and IgG and IgM based testing which can tell us who is immune. But economics and innovation and working to get cost low and availability high. Things are changing quickly. We absolutely need to have the resources and change so that every citizen can get tested at the front line when we need it. We aren't there yet, the technology is available and now we need to ramp up production.
Masks:
Multiple country experiences – Hong Kong, Singapore, Czechoslovakia – are showing us that wearing masks in this outbreak is a sign of social altruism and effective social policy. Being kind to your neighbor is so critical as social policy and social cohesion. Much of the controversy around who should wear masks stemmed from the fact that health care masks were in shortage and experts wanted to allocate supply to health care workers. Well, people can still create homemade masks which can help to reduce at least 70% of spread if not more. 70% is far better than 0%! Even more importantly, wearing masks when you are outside of the home can help to keep everyone in the community aware that we all have to do our part to prevent the spread of this disease.
Preventing outbreaks is a local, national and global issue:
Map data is rapidly showing us that the outbreak issue is a global issue, a national issue and most importantly a local issue. What happened in Lombardy, Italy is dramatically different than what happened in Rome, Italy. Queens and Brooklyn are the epicenter of the global outbreak, but data in New Orleans, as well as South Florida, are also concerning. In other parts of the country, the data is quite different.
The rapid increases and doubling in cases every 2-3 days shows that we have not leveled the curve yet. In some areas there are hints that social distancing is working but we still premature.
What is clear is that prevention strategies will have to dramatically vary by region of the country – at the state and county level.
Ventilator shortages:
Multiple companies are showing ingenuity and innovation on increasing the supply of ventilators and the supply chain is being ramped up. Specific individual regions are taking steps to create additional hospital ICU beds capacity is being created quickly.
THE CRITICAL TWO ISSUES: There are two issues that are critical for us to solve to effectively manage Covid-19 before we can get a vaccine which likely won't happen for another 12 to 18 months.
Treating the Virus and reducing its complications
We need to effectively treat the complications from the virus – rate of hospitalization, rate of ICU admissions, and fatality rates. There are some early signs that certain countries have lower complication rates, e.g., German. If this rate can drop significantly in the next 3 months, it can save thousands of lives AND help the economy. The way this can happen is for the medical community to collectively work on helping patients recover once they are effective.
In this week, we have seen significant and rapid progress on this front.
1. Integrative treatments:
There is a good article that was published this week discussing how integrative treatments can support the immune system. As the authors point out "Unfortunately, no integrative measures have been validated in human trials as effective specifically for COVID-19. Notwithstanding, this is an opportune time to be proactive. Using available in-vitro evidence, an understanding of the virulence of COVID-19, as well as data from similar, but different, viruses, we offer the following strategies to consider. Again, we stress that these are supplemental considerations to the current recommendations that emphasize regular hand washing, physical distancing, stopping non-essential travel, and obtaining testing in the presence of symptoms".
2. Chloroquine and Azithromycin.
There was updated data on the French nonrandomized observational trial of chloroquine and azithromycin. The author, Dr. Didier Raoult reports that in 80 in-patients receiving a combination of hydroxychloroquine and azithromycin, the team found a clinical improvement in all but one 86 year-old patient who died, and one 74-year old patient still in intensive care unit. Most of those patients were treated early in their course. The team also found that, by administering hydroxychloroquine combined with azithromycin, they were able to observe an improvement in all cases, except one. The team went on to say: "Thus, in addition to its direct therapeutic role, this association can play a role in controlling the disease epidemic by limiting the duration of virus shedding, which can last for several weeks in the absence of specific treatment. In our Institute, which contains 75 individual rooms for treating highly contagious patients, we currently have a turnover rate of 1/3 which allows us to receive a large number of these contagious patients with early discharge. Chloroquine and hydroxychloroquine are extremely well-known drugs which have already been prescribed to billions of people." "In conclusion, we confirm the efficacy of hydroxychloroquine associated with azithromycin in the treatment of COVID-19 and its potential effectiveness in the early impairment of contagiousness. Given the urgent therapeutic need to manage this disease with effective and safe drugs and given the negligible cost of both hydroxychloroquine and azithromycin, we believe that other teams should urgently evaluate this therapeutic strategy both to avoid the spread of the disease and to treat patients before severe irreversible respiratory complications take hold."
We await good randomized trials on this treatment which are critical to advancing the science. They must happen.
In a future post, we will discuss the ethics of treating patients without a randomized double bind clinical trial. Needless to say there was been huge variability in state leadership around hydroxychloroquine which has ranged from the governor of Michigan threatening doctors licenses if they prescribed hydroxychloroquine compared to the governor of Florida who made a deal with Teva Pharmaceuticals to provide compassionate use of the drug to local hospitals in South Florida.
3. Remdesivir. The next Remdesivir data should be due in mid-April from China. It is pharmaceutically designed to inhibit Ebola RNA-Dependent RNA polymerase, which is 96% identical to SARs-COV-1. The article below shows the biological data on how Remdesivir works against SARS-CoV-2 in cells.
The most important data we can watch over the next few weeks is whether the combination of all of these therapies can reduce the complication rate.
We will keep you posted. Keeping Healthcare Workers Healthy Our healthcare workers are doing heroic work in this pandemic. Doctors, nurses and staff are all working around the clock to help people. They are also incredibly vulnerable at this time. The shortage of Personal Protective Equipment (PPE) for medical personal has to be addressed more effectively in the weeks to come.
Convalescent serum could help people remain in the workforce as a form of prophylaxis. This is a treatment that has been around since the Spanish Flu pandemic in 1918. Antibodies that a patient has just created are gathered from the patient in "convalescent serum" which is then given to a patient who is fighting the disease. A study from China a few weeks ago that showed some preliminary results in five critically ill patients. In this preliminary uncontrolled case series of 5 critically ill patients with COVID-19 and ARDS, the administration of convalescent plasma containing neutralizing antibody was followed by improvement in their clinical status. This strategy was tested in the US at Houston Methodist in Texas over the weekend for the first time.
Clinical References 1. Alschuler, Weil et al. Integrative considerations during the COVID-19 pandemic https://doi.org/10.1016/j.explore.2020.03.007 2. Shen, Wang et al. Treatment of 5 Critically Ill Patients With COVID-19 With Convalescent Plasma PMID: 32219428 DOI: 10.1001/jama.2020.4783
3. Wang, Chao et al. Remdesivir and chloroquine effectively inhibit the recently emerged novel coronavirus (2019-nCoV) in vitro PMID: 32020029 DOI: 10.1038/s41422-020-0282-0
Disclaimer: If you are not an active Rezilir patient, please disregard any medical advice contained within this document. This is for general informational purposes only and does not constitute the practice of medicine, nursing, or other professional healthcare services, including the giving of medical advice. No doctor/patient relationship is formed. The use of this information and the materials herein is at the user's own risk. The content is not intended to be a substitute for professional medical advice, diagnosis, or treatment. Users should not disregard or delay in obtaining medical advice from any medical condition they have, and they should seek the assistance of their healthcare professionals for any such conditions.
March 23, 2020
Rezilir Health is Open
GENERAL INFORMATION
There was a fair amount of internet-related controversy on the overview of COVID-19 information we linked to on Saturday morning and by Sunday morning, Medium had taken the feed down. We will find a good general overview in a subsequent update.
PHARMACOLOGIC TREATMENT OPTIONS
Hydroxychloroquine
There are a number of US clinical trials that are emerging to study hydroxychloroquine. The first clinical trial is for medical professionals/workers (University of Minnesota sponsored) – send an email to covi19@umn.edu. The second study will be run by NY state for patients, further details are to come.
The University of Washington added hydroxychloroquine to its internal treatment guidelines
The Chinese studies have looked mainly at chloroquine. There is an in vitro study (Yao – see footnote) comparing the two showing that hydroxychloroquine can get better inhibitory studies. Clinically we consider both of these medications to be relatively equivalent.
The French government is setting up a new trial to expand work on the abstract from France discussed earlier this week that showed a successful reduction in COVID 19 load with azithromycin and hydroxychloroquine.
Kaletra
The NEJM study looked at Keletra (ritonavir/lopinavir) and concluded that the medication had no effect on survival. The quality of the study was good. More research needs to be done and will be done.
NSAIDS
There are reports from Europe that NSAIDs may exacerbate virus progression. We are looking into this but in the meantime recommend Tylenol (Acetaminophen).
Angiotensin 2 Blockers
Initial data is conflicting on whether ARBs could help or hurt patients; at this point, patients should remain on ARBs
Favipiravir
The Japanese made flu drug was reported in the Guardian to be effective in reducing the duration of COVID-19 virus in patients and improve long conditions of those who received treatment. (Awaiting link to study) Tocilizumab an anti-inflammatory was reported by the Chinese to have improved results in an observational, non-randomized study.
One clear risk that is emerging across all age groups are co-morbidities – particularly insulin resistance, chronic inflammation, and immune issues. These are all issues we have tried to address. We remain optimistic that new therapeutic options will rapidly emerge to help patients and medical workers with treatment options for COVID-19.
Clinical Footnotes. 1. Yao et al 2020. In Vitro Antiviral Activity Hydroxychloroquine https://doi.org/10.1093/cid/ciaa237
2. Cao et al 2020 Lopinar-Ritonavir https://www.nejm.org/doi/full/10.1056/NEJMoa2001282?query=recirc_curatedRelated_article
Disclaimer: If you are not our patient, please disregard any medical advice contained within it. This is for general informational purposes only and does not constitute the practice of medicine, nursing, or other professional healthcare services, including the giving of medical advice. No doctor/patient relationship is formed. The use of this information and the materials herein is at the user's own risk. The content is not intended to be a substitute for professional medical advice, diagnosis, or treatment. Users should not disregard or delay in obtaining medical advice from any medical condition they have, and they should seek the assistance of their healthcare professionals for any such conditions
March 21, 2020
Rezilir Health is Open
As most of our patients settle at home this weekend practicing social distancing, we believe it is very important to keep the right context and perspective on the information that you are getting on COVID-19. A couple of thoughts this Saturday morning:
1) Get the facts right. The facts keep changing daily and it is important that we all get the right facts without hysteria or bias. A very helpful analysis and summary of facts that not well appreciated in most newsfeeds is Aaron Ginn's summary as of March 20, 2020. Everyone should take the time to look at the information and think for themselves.
The rapid increases in daily numbers (total cases expanding to 16k at an exponential rate), are in the context of massive increase in testing which distorts some of the numbers. Don't panic about the new numbers until the data has a few days to settle.
2) Most cases of COVID-19 will be mild. The facts are that 80-85% of all cases will be mild and will not require a hospital visit; only 1% of everyone tested for COVID-19 in the US will have a severe case that will require a hospital visit. As we hear escalation in numbers, it is important that we keep this in mind.
3) Treatment data is starting come through.
We should expect a high volume of treatment data coming out weekly as the scientific community looks to develop effective treatment options for COVID-19.
There is a good summary article this week by Dr. Saddiqi at the Brigham on how to think through treatment protocols for Covid-19 that outlines progressive phases of the disease, a useful classification, the need to avoid the hyperinflammatory stage and potential therapies (with an emphasis on potential and yet unproven therapies). A very useful summary chart is listed below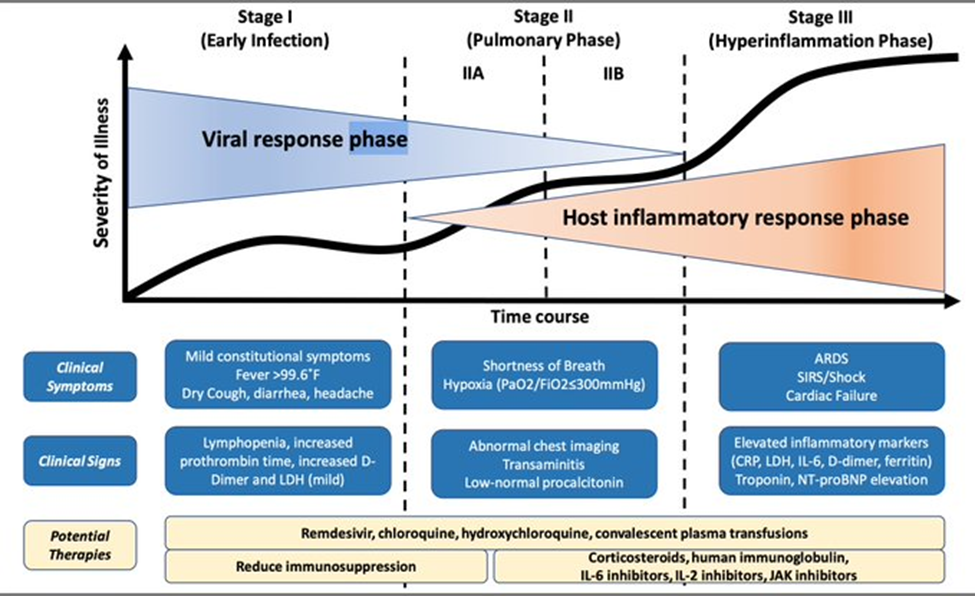 Negative data came out on Thursday on a randomized trial in the New England Journal of Medicine on Lopinavir and Ritonavir. While the data was disappointing, it was high quality. the investigators appropriately prioritized speed and designed a trial that could rapidly produce an answer so that we have important insights from patients seen in January.
Early data on hydroxychloroquine coming out but it is early. Hydroxychloroquine (Plaquenil) made it to Trump's press conference this week causing a run on prescriptions. Here are the facts. Because of the lack of effective alternatives and some promising non-randomized data, several countries have put hydroxychloroquine into their COVID-19 clinical therapeutic guidelines on Belgium and China. French investigators published an open-label non-randomized study this week that showed promising results including reduction of viral shedding. Hydroxychloroquine has been an effective agent for managing infections and inflammatory responses in several therapies ranging from autoimmune conditions and chronic infections with some in vitro data published to support dosing schedules. The data needs to be replicated with better randomization and controls and we look forward to seeing improved research coming out in the weeks to come. In the meantime, we will incorporate this into our clinical protocols always remembering to customize care for each particular clinical situation.
In good health,
Dr. Craig Tanio
CLINICAL FOOTNOTES
1) https://www.nejm.org/doi/full/10.1056/NEJMoa2001282?
DOI: 10.1056/NEJMoa2001282
2) Gautret et al. (2020) Hydroxychloroquine and azithromycin as a treatment of COVID‐19: results of an open‐label nonrandomized clinical trial.
International Journal of Antimicrobial Agents – In Press 17 March 2020 – DOI : 10.1016/j.ijantimicag.2020.105949
3) DOI: 10.5582/bst.2020.01047 5) https://www.ncbi.nlm.nih.gov/pubmed/32150618 DOI: 10.1093/cid/ciaa237
4) https://www.ncbi.nlm.nih.gov/pubmed/32150618 DOI: 10.1093/cid/ciaa237
March 19, 2020
Rezilir Health™ is Open
Rezilir Health is here for you. 
Things are changing rapidly with the global COVID-19 pandemic. A couple of reflections and observations over the last few days are listed below.
The data on the extent of the pandemic is rapidly changing as the US starts to catch up with testing. Regardless of your politics, our country's attitude is rapidly changing, and some effective action is starting to happen, hopefully it will be quick enough to slow the progression of the virus.
Cases in the US hit 7k more than 5x last week and remains on the exponential curve. https://coronavirus.jhu.edu/map.html
The Oxford data set will let you keep track of individual country trajectories to see when the US starts to slow down https://ourworldindata.org/coronavirus
The research is showing that most of the transmission is happening in the population driven by asymptomatic patients, many of them younger. We need everyone to act collectively to have more physical isolation so we can protect the most vulnerable in the population.
At Rezilir we are changing our processes so that patients who need to come into the clinic can feel like they are safe and at low risk of catching an infection. Everyone is wearing masks. It is slowly penetrating the US health care community that EVERYONE should wear some type of mask to slow down dose of transmission, even if it is a scarf or modest face mask.
There is a lot of collaborative work in the medical community on what treatments should be available if someone is diagnosed as having COVID-19. At present many of the European guidelines and the US UpToDate guidelines are including a treatment protocol that involves Plaquenil (hydroxychloroquine) a drug that we use for many of our Lyme patients. We will be incorporating this into our treatment protocols and can share additional information on these guidelines.
We have also been in collaboration with our other functional medicine colleagues on appropriate immune support protocols and have upgraded our onsite IV protocols. If you need additional Immune Support, please call, we can give you a protocol to have available including a "ramp-up" amount that you can advance to without needing to get an urgent package sent to you.
We are committed to helping you in any way we can! Please continue to reach out and let us know of your victories and concerns.
All the best,


Craig, Tammy and the Rezilir Team
March 17, 2020
Rezilir Health™ is open
In regards to the safety of our patients and the Rezilir Team, we are trying to convert all appointments to either a phone call or a doxy video appointment. As always, we do not accept walk-in appointments.
Currently, you still have the option to take your insurance-based labs to Quest or LabCorp. Be smart, make an appointment so your wait will be shorter. Wear a mask in the waiting room. Use your own pen while signing in. If you have disposable gloves, wear them to check-in at the kiosk if your lab is on a kiosk system. If you don't have labs, use hand sanitizer immediately or if you have the availability, wash your hands for 20 seconds minimum immediately. Also, carry a paper towel with you to open any door you may need to walk through the lab.
If you need to come to the office for specialty labs, please arrive on time. Before entering our clinical space, your temperature will be taken and a screening process will occur. Once you have passed the screening process, you will be asked to use provided hand sanitizer when you arrive and be given a mask to wear.
Below is a chart of symptoms. Do not forget that we still are in the middle of cold and flu season and you can see that the symptoms can be similar, bot COVID-19 has far fewer symptoms. This list is not all-inclusive
| | | | | |
| --- | --- | --- | --- | --- |
| Symptoms | Allergy | Cold | Flu | Coronavirus (COVID-19 |
| Sneezing | X | X | | |
| Stuffy Nose | X | X | X | |
| Running nose | X | X | X | |
| Sore Throat | X | X | X | |
| Mucous | X | X | | |
| Coughing | X | X | X | ֗X |
| Fever | | X | X | X |
| Muscle & body aches | | | X | |
| Headache | | | X | |
| Fatigue | | | X | |
| Vomiting/nausea | | | X | |
| Diarrhea | | | X | |
| Shortness of Breath | | | | X |
If you develop Emergency Warning Signs for COVID-19 get medical attention immediately at the emergency room. Emergency warning signs include:
Difficulty breathing or shortness of breath
Persistent pain or pressure in the chest
New confusion or inability to arouse
Bluish lips or face
Please use reliable sources to get your information such as the CDC (https://www.cdc.gov/) or the WHO (https://www.who.int/). You can also contact your local Department of Health in your state. Local municipalities may have different protocols for testing and/or social gatherings.
We will be providing you with daily updates on COVID-19, please check back. If you have questions, please put them on the portal