Florida COVID metrics are now on the backside of the curve
This week's dashboard for Florida showed the following percentage reduction from the peak in July
70% reduction of ER cases with COIVD (4.8k this week, peak was 16k)
49% reduction of new cases (40k this week, peak was 79k)
33% reduction of positivity rate (9.3% this week, peak was 14%)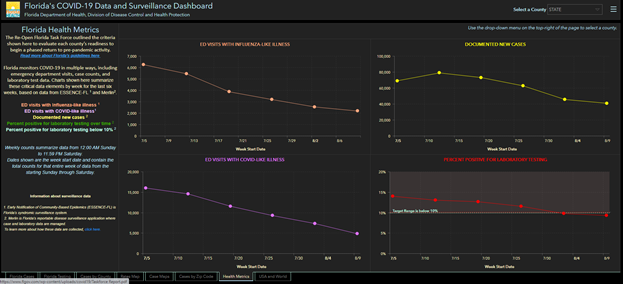 Death rates show a similar story but need to be viewed with the right analytical filter.
The rates reported by the media daily are distorting because it reflects data sorted by the date that it comes into the department of health.  Backlogs of data can create spikes that are not due to health issues but reporting issues. The Florida community dashboard led Rebecca Jones has organized deaths into the date that the case was first reported. This allows us to track the impact of deaths with the same timeline as cases.  The data shows that the peak day in Florida for Covid was July 9th through July 11th (death peak was July 9th , cases date was July 11th. )  Note below how the deaths by date reported creates large variability which can easily be misinterpreted by the public (or spun by the media).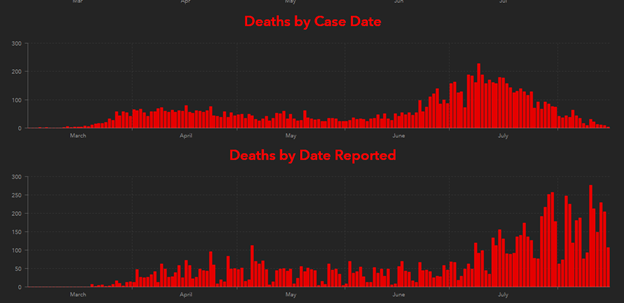 The CDC Excess Data has Florida data through the week ending August 1st which shows a steep drop in excess deaths. The results now look similar to numbers in mid-June.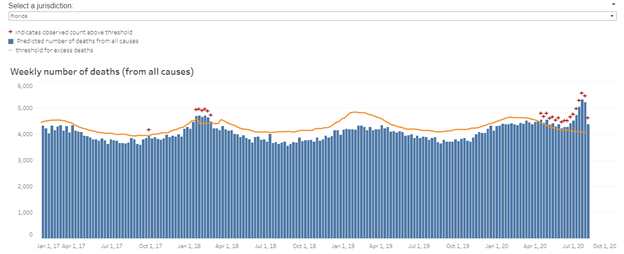 All of this data clearly shows that Florida is at the back end of the curve. The big question at this point is do cases head down towards zero (e.g., a "burn-out" of the virus) or will they plateau at a higher number? We will discuss this issue in a future post.