Rezilir Health is Open
As most of our patients settle at home this weekend practicing social distancing, we believe it is very important to keep the right context and perspective on the information that you are getting on COVID-19. A couple of thoughts this Saturday morning:
1) Get the facts right.The facts keep changing daily and it is important that we all get the right facts without hysteria or bias. A very helpful analysis and summary of facts that not well appreciated in most newsfeeds is Aaron Ginn's summary as of March 20, 2020. Everyone should take the time to look at the information and think for themselves.
The rapid increases in daily numbers (total cases expanding to 16k at an exponential rate), are in the context of massive increase in testing which distorts some of the numbers. Don't panic about the new numbers until the data has a few days to settle.
2) Most cases of COVID-19 will be mild. The facts are that 80-85% of all cases will be mild and will not require a hospital visit; only 1% of everyone tested for COVID-19 in the US will have a severe case that will require a hospital visit. As we hear escalation in numbers, it is important that we keep this in mind.
3) Treatment data is starting come through.
We should expect a high volume of treatment data coming out weekly as the scientific community looks to develop effective treatment options for COVID-19.
There is a good summary article this week by Dr. Saddiqi at the Brigham on how to think through treatment protocols for Covid-19 that outlines progressive phases of the disease, a useful classification, the need to avoid the hyperinflammatory stage and potential therapies (with an emphasis on potential and yet unproven therapies). A very useful summary chart is listed below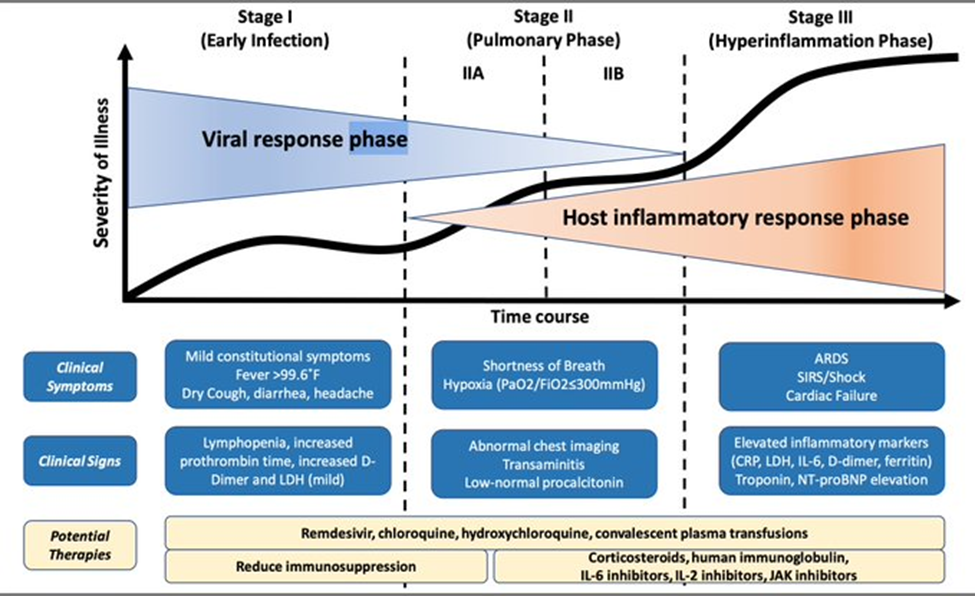 Negative data came out on Thursday on a randomized trial in the New England Journal of Medicine on Lopinavir and Ritonavir. While the data was disappointing, it was high quality. the investigators appropriately prioritized speed and designed a trial that could rapidly produce an answer so that we have important insights from patients seen in January.
Early data on hydroxychloroquine coming out but it is early.Hydroxychloroquine (Plaquenil) made it to Trump's press conference this week causing a run on prescriptions. Here are the facts. Because of the lack of effective alternatives and some promising non-randomized data, several countries have put hydroxychloroquine into their COVID-19 clinical therapeutic guidelines on Belgium and China. French investigators published an open-label non-randomized study this week that showed promising results including reduction of viral shedding. Hydroxychloroquine has been an effective agent for managing infections and inflammatory responses in several therapies ranging from autoimmune conditions and chronic infections with some in vitro data published to support dosing schedules. The data needs to be replicated with better randomization and controls and we look forward to seeing improved research coming out in the weeks to come. In the meantime, we will incorporate this into our clinical protocols always remembering to customize care for each particular clinical situation.
In good health,
Dr. Craig Tanio
CLINICAL FOOTNOTES
1) https://www.nejm.org/doi/full/10.1056/NEJMoa2001282?
DOI: 10.1056/NEJMoa2001282
2) Gautret et al. (2020) Hydroxychloroquine and azithromycin as a treatment of COVID‐19: results of an open‐label nonrandomized clinical trial.
International Journal of Antimicrobial Agents – In Press 17 March 2020 – DOI : 10.1016/j.ijantimicag.2020.105949
3) DOI: 10.5582/bst.2020.01047 5) https://www.ncbi.nlm.nih.gov/pubmed/32150618 DOI: 10.1093/cid/ciaa237
4) https://www.ncbi.nlm.nih.gov/pubmed/32150618 DOI: 10.1093/cid/ciaa237