Which populations are the most vulnerable to COVID?
The largest study of mortality risk for COVID was released today from the UK. It looked at over 17 million patients and 5600 in hospital deaths. It starts to give us a much more granular look at what factors contribute to a higher risk of dying for COVID. Some of these risk factors have not been well-characterized prior to this study.
Highest risk factors
Age is the highest risk factor with risk increasing significantly with every 10-year bracket over the age of 59. Patients 60-70 have 2x risk, Patients 70-80 have 4.7x risk. Patients over the age of 80 have a 12x higher risk.
Organ transplant and recent malignancy have a 5x higher risk
Diabetes and obesity had a stepwise risk, the worse the condition the higher the risk up to 2.4x higher risk
Stroke/dementia (1.79x) and other neurologic risks (2.5) were in a similar category
Important risk factors
Socioeconomic deprivation had a stepwise risk up to 1.75 x
Asian (1.6x), African (1.7x), male (2x), chronic liver disease (1.6x)
Modest risk factors
Rheumatoid arthritis/lupus / psoriasis had a slight increase in risk (1.2) the same as asthma (1.25) and chronic heart disease (1.2)
No risk
Hypertension was not a risk
Current smokers had reduced risk (0.8) – now seen in multiple studies, ex-smokers had a higher risk (1.25x)
This should really help provide more clarity as to which populations should be considered vulnerable. The risk factors are multiplicative in that a person's total risk is the product of all of their risk factors.
See the picture below for more details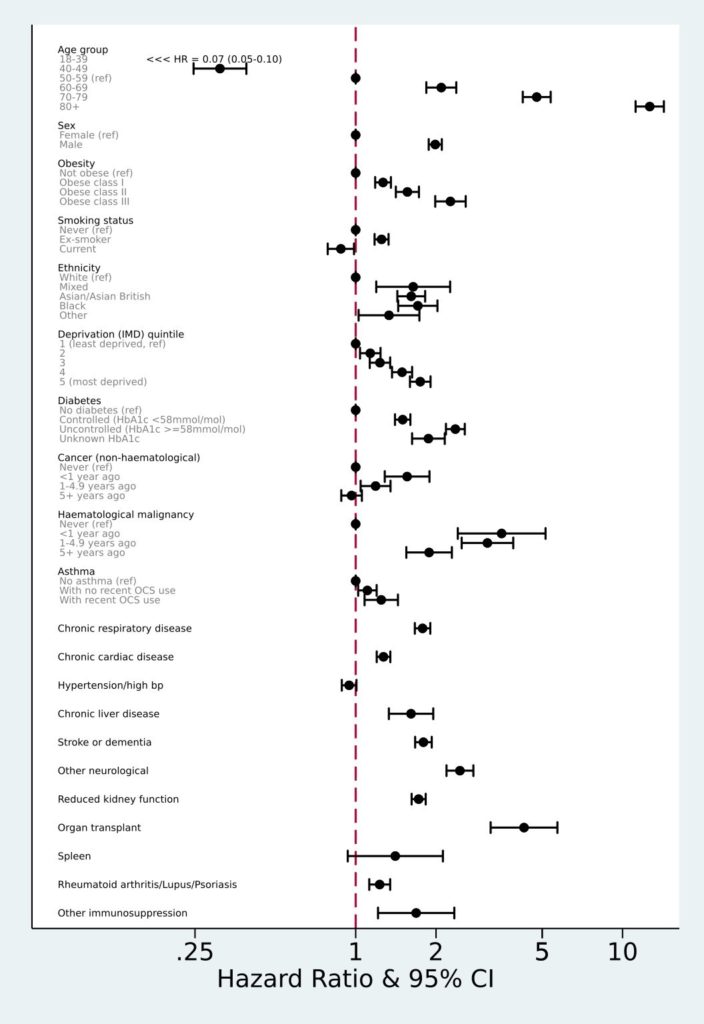 We will certainly use this data going forward to counsel patients about their individual risk in connection with COVID-19.