Eating and Staying Healthy on a Budget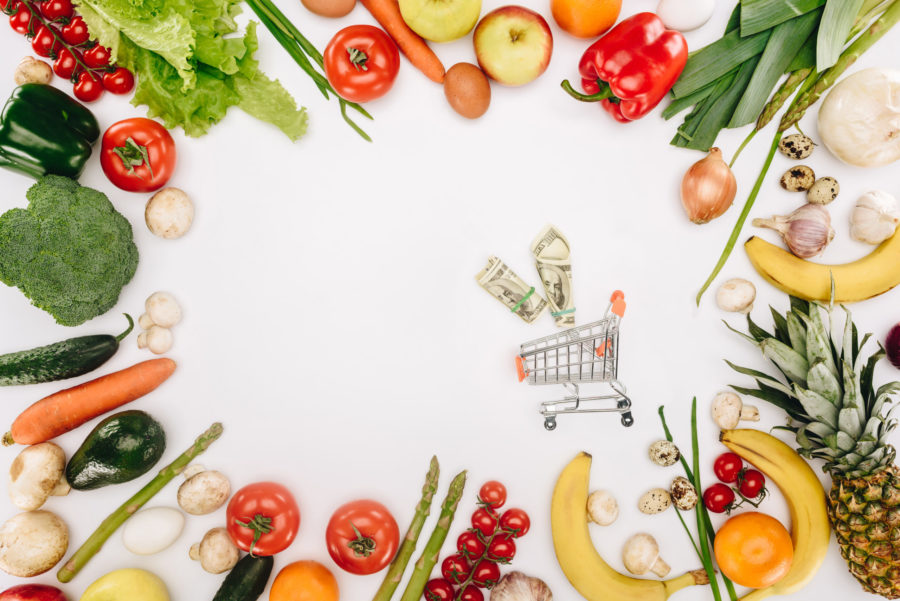 The economic impact of recent global challenges has affected us all. Whether it is the loss of a job, reduced working hours or loss of revenue for one's business; many people are keeping a close eye on their spending and hoping for the economy to rebound soon. Taking care of your health with adequate sleep and good nutrition is more important than ever to assure your immune system is working well. We have all heard the adage that eating healthy food is more costly than eating junk food but is this true? According to a meta-analysis comparing healthier foods and diet patterns to less healthy options, buying healthy unprocessed meals only cost $1.48 more per day. Buying organic fruits and vegetables can cost a few more dollars per pound than conventionally grown produce but there are steps we can take to save money while still buying the best quality food.
12 Tips on Eating Well on a Budget
Plan Your Meals and Use Leftovers
Planning your meals can help streamline your grocery list and prevent having to spend extra money by eating out. You can plan to cook 3 larger meals a week that can provide you with leftovers and cut down on trips to the grocery store. Meal planning or meal prepping beforehand is helpful for people who do not have time to do a lot of cooking or who want to avoid having to buy lunch at work.
Stick to Your Grocery List
Once you plan what meals you will be having throughout the week you can create your grocery list of ingredients. The list is a great tool to help you focus on only what you need. Sticking to your list lowers your risk of spending on extra items you do not necessarily need as well as avoiding temptations for unhealthy options that may tempt us at the grocery store.
Cook at Home
We all know that eating out can be expensive especially if you are trying to feed multiple people in your family. Preparing meals at home not only saves money but also allows you to control the quality of ingredients for a healthier meal.
Don't Shop When You are Hungry
Shopping when you are hungry sets you up to make purchases you would not usually make. It is harder to walk past the baked goods when you are on an empty stomach and it is likely you will choose unhealthy foods when thinking with your stomach instead of your mind.
Buy Whole Foods
One might think it is less expensive to buy a bag of chips at a cost $3.50 as compared to a bag of apples for $4.50 but we must consider satiety and nutrition to really see what the best value is. The bag of chips will be less satiating given the lack of fiber and nutrients. The bag of apples will not only provide a filling snack but offers fiber, vitamins and minerals that will keep you healthier and may even save you healthcare costs over the long term. One study in the journal Social Science and Medicine (March, 2020) found that eating less satiating foods can lead to people wanting to eat more which can also cause them to spend more.
Consider Buying in Bulk
Larger family sized portions of grains and beans can be an economical option because the price per unit is less than a smaller bag. To determine price per unit, divide the price by the number of pounds or ounces on the package. Then you can compare products and sizes to get the most value for your dollar. Be mindful of not buying more perishable items than you can consume in the week to avoid food waste.
Buy Cheaper Cuts of Meat
Expensive cuts of meat are usually more tender and can be cooked quickly but that does not mean you can't have a delicious meal using other more affordable cuts of meat. Examples include ground beef, flank steak, hanger steak, and skirt steak. Ribs are also a less expensive option but needs to be cooked at a low temperature for a longer period of time. Chicken legs are usually much less expensive than chicken breast. Other less expensive options is pork shoulder, ground beef, and chuck eye steak.
Buy Generic Brands
Generic brands often contain the same ingredients as the name brand version of the same type of product. Choosing the generic or store brand may allow you to save an average of $1 to $3 per product.
Shop For Produce That Is In Season
Buying produce in season not only saves you money but is also good for the planet. When buying fruit that is not in season, we must purchase a product that has been picked before it is fully ripe and then has to be shipped, sometimes internationally; which costs more and impacts the carbon footprint of that fruit.
Another option is buying from your local farmers market for the freshest produce with intact nutrient levels and a cheaper price tag.
Buy Frozen Fruits and Vegetables
Produce that is harvested and frozen quickly retains all of the nutrients and is handy to keep on hand without the worry of it spoiling. Buying organic frozen fruits and vegetables can be a less expensive option to buying fresh.
Replace Meats with Other Proteins
Vegetarian sources of proteins such as legumes are highly nutritious and tend to be more affordable than meats and fish. Some may argue that choosing a plant-based meal daily can lessen the environmental impact of the meal due to the resources needed to produce the animal meat. Plant based protein also offers other important nutrients such as fiber. If you still crave meat, incorporate smaller amounts as a base for flavor or as a condiment, while focusing on plant proteins like beans or tofu so that you can save on cost, increase volume of the meal, and boost nutrition and heartiness.
Pack Your Lunch
Although packing your lunch to save money when at work seems like a no brainer, many people continue to rely on eating out for lunch. Eating out can often be a nice break for people and offer some time to socialize with coworkers but can be costly. For example, spending $10 a day for lunch can add up costing $200 per month. Packing your lunch allows you to make healthier food choices while at work helping you stay trim while keeping your wallet fat.
In Conclusion….
Eating a well balanced, healthy diet is not necessarily more expensive than an unhealthy diet. By making a few changes such as planning your meals before you go shopping, choosing foods that are less expensive but high in nutrients, and cooking at home you can save hundreds of dollars each month. Even if you only implement a few of these changes you will make your meals more economical as well as save money in healthcare over the long term. Eating mindfully can also help save money and calories. Be present when you eat and acknowledge the healing properties of the healthy foods you choose. The junk food you buy today may seem inexpensive but the impact it has on your health will end up costing you much more in the long term. Also remember that you can't put a price on self-care because good health is priceless.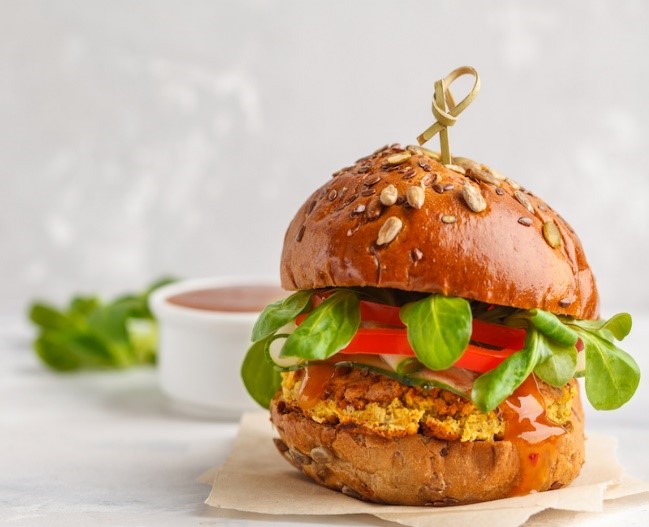 Homemade Veggie Burgers
Drain one can black beans and place into a large bowl.
Mash the beans with a fork and add in 1 medium cooked sweet potato, ½ cup old-fashioned rolled oats, 1 small diced carrot, and a pinch of salt and pepper.
Mix all ingredients together with a spoon or your hands. Refrigerate for 20 minutes and shape into patties.
Add 2 tablespoons oil into a pan and heat on medium-high. When oil is warm, add patties and cook on each side for about 3 minutes.
Enjoy the patties over a bed of greens or assemble on a whole grain bun with your favorite toppings!
References
Rao M, Afshin A, Singh G, et al. Do healthier foods and diet patterns cost more than less healthy options? A systematic review and meta-analysis
BMJ Open 2013;3:e004277. doi: 10.1136/bmjopen-2013-004277
Daniel C. Is healthy eating too expensive?: How low-income parents evaluate the cost of food. Social Science & Medicine. 2020 Mar 1;248:112823.