Florida & COVID: What Now?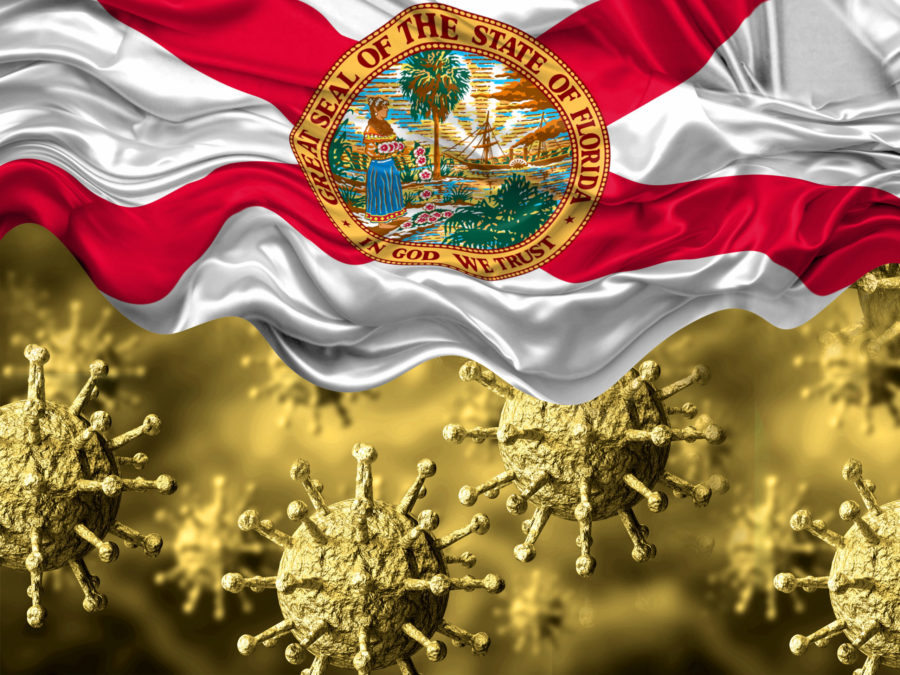 In Florida, the rate of COVID is surging since the beginning of June. What are the facts on the virus?
Current cases are 4,061 on 6/19 compared to 1,029 on 6/7 a four-fold increase. The increases in cases are real and cannot be attributed to higher testing alone. The number of people tested has increased modestly (23%) 34,392 on 6/19 compared to 27,935 on 6/7. The positivity rate for new cases has nearly tripled, 12.36% positive on 6/19 compared to 3.85% on 6/7. This number had been trending down for most of May and represents a concerning reversal.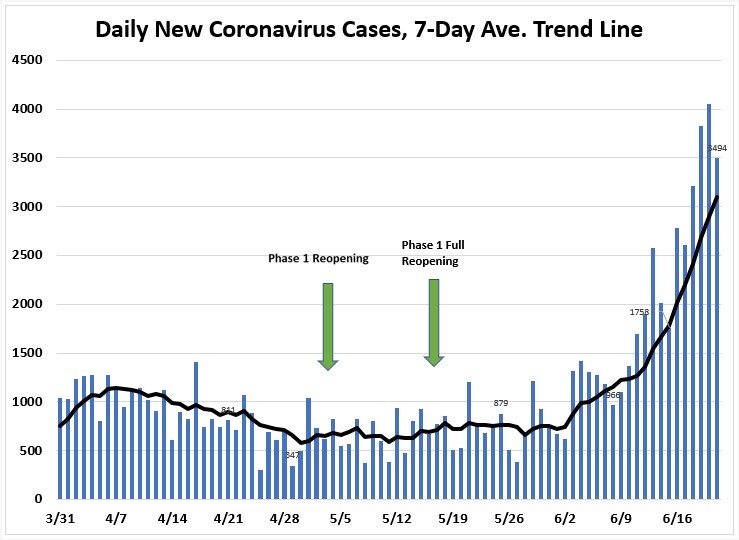 Hospitalizations are staying the same if not declining.  Hospitalization and mortality rates remain concentrated in individuals 65 and over. 19% of the cases are in patients 65 and older, but those patients constitute 86% of the deaths.  If we consider that elective surgery cases are now happening and are getting counted as COVID hospitalizations, the trend is likely declining.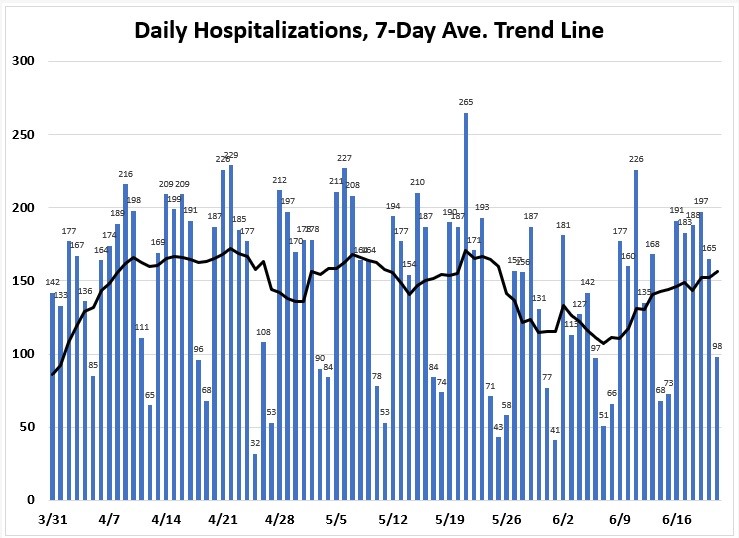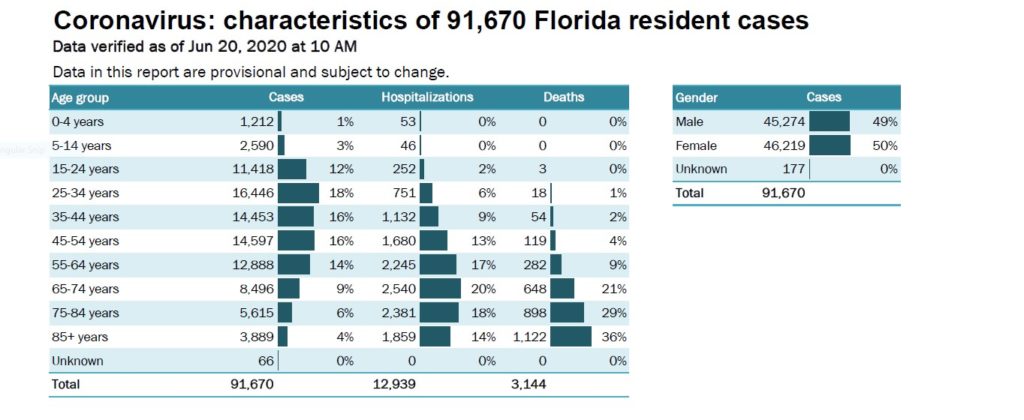 The death rates in Florida are going down not up, despite higher cases. This trend is being seen across the US not just in Florida. Case rates are going up nationally, but death rates are going down.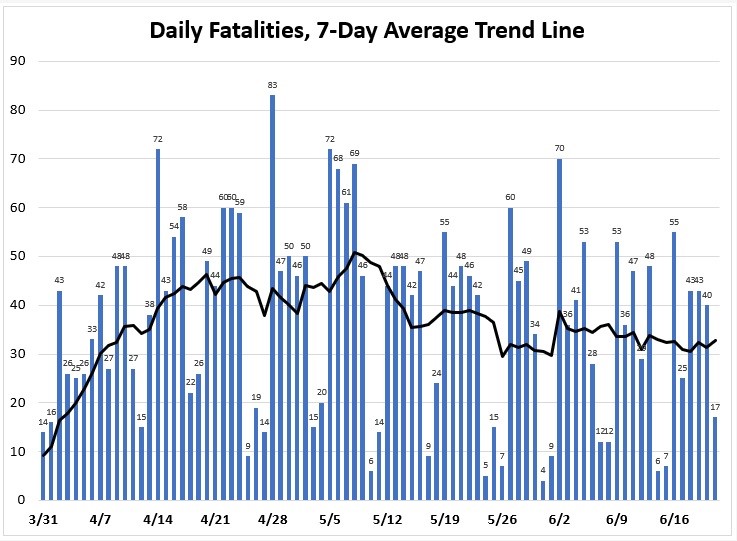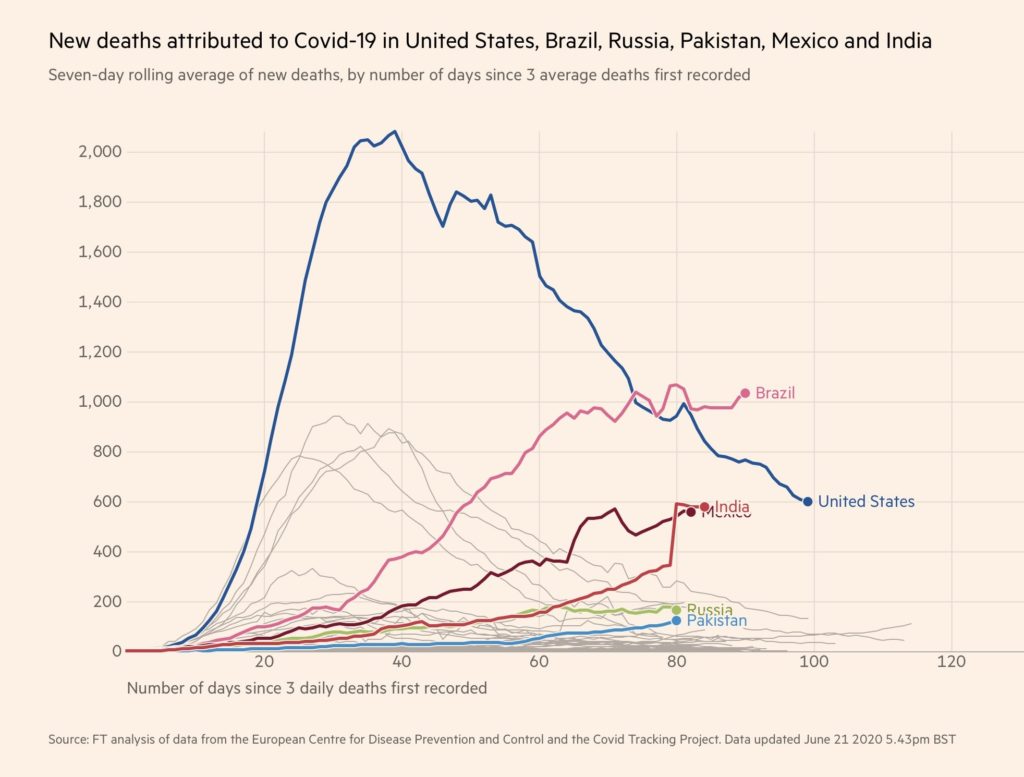 This phenomenon of higher case rates but lower death rates is not being seen in other countries besides the United States. As a result, there isn't an immediate, obvious answer, but there are three potential explanations:
Younger people are getting the virus at a higher rate as older people appropriately take more precautionary measures. Nationally, the data shows that people 50 and over show a strong decrease in test positivity from April to June, with a reduction of 25% to 4-5% over that period of time. The average age of the person who is testing positive for the virus is trending downwards in Florida, it is now 32 for example in Broward County. 
Treatment in the hospital continues to improve. Remdesivir and dexamethasone are now two effective treatments supported by the literature which is likely reducing mortality rates. ICU and ventilator capacity are not an issue in Florida
The virus may be getting less deadly. This has been hypothesized by Italian researchers but not confirmed.
In conclusion, although the surging case rates in Florida is getting the headlines, a deeper analysis of the data shows good news with death rates and no changes with hospitalizations. That being said, surging case rates in Florida call for a relook at a more targeted strategy at reducing transmission.
What does a targeted strategy look like?
The US public is losing appetite for draconian lockdown measures since the effects of shutting down the economy seems to cause as much health issues as COVID itself. Measures to reduce the transmission of the virus need to be more precise. Fortunately, we have much better information in June than we did in February when this first started. For example, there has been a comprehensive review of the effects of worldwide lockdowns in Nature.
A targeted strategy could include the following:
Track new metrics. Because the death rates are going down, it will be critical for us to be able to follow death rates and hospitalizations as the major metric of success rather than just cases alone. We also need to develop a COVID complication metric as it is likely that there will be significant cases of chronic fatigue and other post-viral complications in young patients even if they are not hospitalized.
Enforce indoor wearing of masks. Unfortunately, the wearing of a mask has become polarized. The messaging on this has whipsawed back and forth as experts attempted to create a particular response in the public rather than just presenting the facts. In my view, the wearing of a mask indoors is the most effective and practical intervention to reduce transmission. Japan for example, has been able to control COVID primarily through this policy without less of a lockdown. Cloth masks are not nearly as effective as N95 but far, far better than nothing. They are an act of altruism; you are protecting others from yourself. There needs to be a focus across the state on wearing masks indoors.
Allow outdoor activities since outdoor transmission of the virus is much harder than indoor transmission. As a result, it should be ok to keep the parks and the beaches open. Outdoor restaurant seating doesn't create a problem. It should also be fine to not wear a mask if you are by yourself or social distancing from other people. In the case of outdoor crowds, Initial data from outdoor gatherings (e.g., Arkansas pools) and outdoor protests does not point to outdoor activities as a major vector of transmission.
Selectively tighten high risk indoor activities. Indoor transmission is the major vector.  You do not need to shut down the entire economy to be able to effectively reduce the transmission of the virus. Areas in Florida that need that need to be managed more effectively include:

Bars – the business model around most bars (alcohol, mingling, reduced social inhibition) directly contradicts appropriate strategies. Shutting down the bars and keeping restaurants open would be an appropriate targeted response.

Elevators – in most elevators, it is impossible to manage social distancing appropriately unless deliberate attempts are made to reduce capacity in elevators (e.g., no more than 2 people who don't know each other).

Large public gatherings indoors.  Super-spreader events, seem to be the major accelerator of transmission, where 20% of cases are driving 80% of transmissions.  A global database has been constructed of these "super-spreader" events that accelerate transmission of the virus. 97% of these events happened indoors, with the vast majority of them occurring where people were confined together for prolonged periods of time. Given these findings, having a capacity limit on indoor public gatherings is common sense. If there is an important reason to have a public gathering, put it outside and have everyone wear masks.
Reopen public schools as it does not appear to create major transmission risks and children without comorbidities have much less risks of problems with COVID.  Several European countries have done this without a major impact on COVID transmission. More on this to come.
Yours in health,
Dr. Craig Tanio